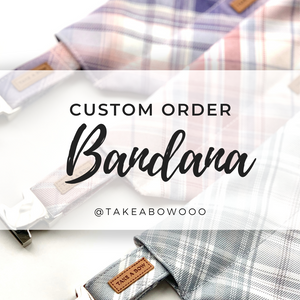 CUSTOM
BANDANA
Handmade with cotton fabric, designed to slip onto your furbaby's own collar.

BANDANA SIZE
Petite - 18cmW x 13cmH ; 3.5cm collar gap 
Standard - 26cmW x 18cmH ; 5cm collar gap

Large - 30cmW x 21cmH ; 6cm collar gap


HOW TO ORDER
In the drop down menu, choose size
Add to Cart
In the Order Note of the Shopping Cart Page, let us know the FABRIC STYLE you would like to get (except fabric from Luxury Collection & Clearance)
Proceed to checkout
Sit back and relax and wait for your order :)
On unfortunate events that fabrics are not enough or not available we will refund the cost of the item.


HOW TO WEAR

Bandanas are Slip on Collar style. Easily slips onto your furbaby's collar with the openings on the sides.
Have special requests? Send us a message! We are more than happy to help :) 
@takeabowooo